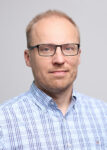 Petr Neškrábal
Partner | Managing Director
Accace Czech Republic
Petr joined Accace in 2010 after 10 years of experience in Deloitte. Challenged by a new opportunity and a great chance to build up a new team, Petr took over the position of head of tax and managed to assemble a professional advisory team of more than 30 experts.
In 2013, when the provision of consulting and outsourcing services was split between the offices in Prague and Brno, Petr was appointed to the managing director role responsible for Accace's office in Prague. He has been taking care of the teams providing tax and accounting, as well as legal advisory services via the fully-fledged affiliated law firm, Accace Legal. In 2016, Petr became one of Accace's partners in the Czech Republic.