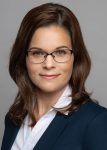 Ildikó Hajnal-Balázs
Tax Manager
Accace Hungary
Ildikó is a qualified Hungarian accountant and tax advisor. Prior to Accace, she gained 4 years of experience as a tax collector, and more than 11 years as a tax auditor. In addition, she also worked for the local and the national tax authority. After her 15 years of public service, in 2018, Ildikó joined Accace as a senior tax consultant.
She has experience in direct taxes (corporate taxation, personal income tax, social contributions); indirect taxes (VAT); local taxes, international taxation and tax audit.