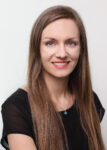 Lenka Brummerová
Corporate Services Manager
Accace Czech Republic
Lenka completed a UK degree in Law and International Relations at Oxford Brookes University. After finishing her studies, she worked mainly as a business developer and dealt with the research and development of tax relief, including setting up internal processes and business relationships. Lenka joined Accace in 2018, where she currently works as a corporate services manager.