Business trips from accounting and tax point of view | Online training | Czech Republic
€ 150 excl. VAT | € 182 incl. VAT*
We introduce you to the issue of business trips according to the Czech legislation. We will show you the different types of travel reimbursements and we will look at the accounting and tax aspects of business trips. You will teach how to fill in the forms correctly and we will provide you with the necessary forms and templates.
Training scope:
Legislation
Types of travel reimbursements
How to fill in the forms
Accounting and tax considerations
Q&A
Materials for your use:
Presentation
Overview of compensations valid for current year
Forms/templates in Excel: foreign and domestic business trip, evidence of private trips, expense statement of employee, logbook
Duration: 1 hour
The exact date and time of the online training will be agreed with the consultant after the purchase.
Disclaimer
The call cannot be recorded. Please read the Terms and Conditions before booking our services. Terms and conditions.
*consumers are bound by prices incl. VAT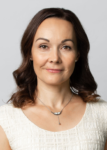 Gabriela Procházková
Accounting Manager
Expertise: accounting processing, accounting consulting, reconstruction of accounting and identification of problems, accounting automation.
Online consulting for your business
Vendor Information
Store Name:

Accace Outsourcing s.r.o.

Vendor:

Accace Outsourcing s.r.o.
Address: Hvězdova 1716/2b
140 00 Praha
No ratings found yet!
Only logged in customers who have purchased this product may leave a review.