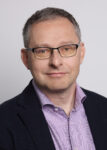 Jan Najman
Legal Partner
Accace Czech Republic
Jan worked in several reputable Prague law offices and is a registered attorney-at-law with many years of experience. He joined Accace in 2018 and became a part of our independent law firm, Accace Legal, as a legal partner.
Currently, Jan is co-responsible for managing Accace Legal, where he focuses on developing business relationships with clients in the areas of catering, pharmaceutical business, and construction. Jan represents Accace Legal in the Lawrope network of law firms, of which Accace Legal is a member.