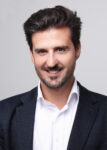 Karel Ryšavý
Legal Partner
Accace Czech Republic
Karel gained experience in several reputable Prague law offices and is a registered attorney-at-law with many years of experience. He joined Accace in 2017 as senior associate, and later became one of the legal partners in Accace Legal.
Currently, Karel is co-responsible for managing Accace Legal, where he focuses on managing the team of attorneys and legal trainees, as well as developing business relationships with clients.